Ferrari believes that problems on the 2014 breed of Formula 1 cars currently take twice as long to fix as was the case last year.
During pre-season testing all of the F1 teams have suffered long delays due to work needing to be carried out on cars.
Ferrari's problems on the third day in Bahrain, where it lost several hours working to fix a telemetry problem, was an example of a team having to spend a long time fixing an issue that would have been far more straightforward on the previous generation of car.
The team's engineering director Pat Fry said: "The cars are so complicated, it takes a while to get in and find the problems."It's harder getting to the bits you need to change than changing the bits themselves. I guess there's a certain level of familiarity with what we had in the past.
"I would have thought the things that have set us back and cost us four hours would have taken half the time, at a guess."
Fry believes that the length of time some repairs have taken so far in pre-season have exaggerated the reliability issues caused by the new rules for 2014.
"Once you've got the car running, quite a few people have proven that they're actually quite reliable," he said.
"It's getting it to the point where it is ready to do that that is the challenge. But that will come."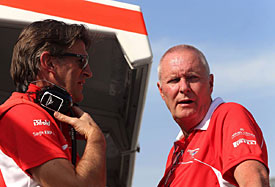 COMPLEX PACKAGING
All teams have been encountering these kinds of problems, with fellow Ferrari-powered team Marussia spending most of the Bahrain test working on the car in the garage.
"When you see the car with the engine cover off, it is just so complex," team principal John Booth told AUTOSPORT.
"To get to anything is difficult and requires removing three or four other bits just to get at what you want to. That's just what is required in terms of packaging."An engine change wiped out almost an entire day of running for Marussia, and although Booth expects this aspect to speed up, solving smaller problems will remain time consuming.
With just two hours between Saturday morning practice and qualifying on race weekends, this could lead to some cars not being able to run in the afternoon if they encounter a problem in the earlier session.
"Things like engine changes will come down in time, although it won't be quick as the old Cosworths," said Booth.
"Because of a shortage of spares, we didn't have an engine dressed here and dressing an engine takes 10 times longer than changing it.
"When we get to Melbourne, we will have engines dressed ready to slide in. "But if you get an electrical problem buried deep down in your engine bay, it's going to be nip and tuck."