Nico Hulkenberg set the fastest time on the first day of the second pre-season Formula 1 test in Bahrain, as Mercedes-engined teams filled three of the top four spots on the timesheet.
The Force India driver completed 78 laps of running and was the only man to crack the 1m36s.
His 1m36.880s best on soft tyres put him inside Sebastian Vettel's fastest race lap in last year's Bahrain Grand Prix.
Ferrari's Fernando Alonso set the second fastest time, edging Lewis Hamilton's Mercedes with a late run.
Alonso earlier brought out the first red flag of the day when his Ferrari left the pits billowing smoke thanks to an oil leak first thing in the morning.
Hamilton and
McLaren's Kevin Magnussen
both took turns to top the times during the day. Hamilton wound up third fastest and Magnussen fourth.While there were plenty of positives for the four Mercedes-powered squads (Williams was so advanced in its programme that it spent day three doing pitstop practice, while McLaren set top-four times on each day with Magnussen and Jenson Button driving), there was more disquiet at Renault outfit Red Bull.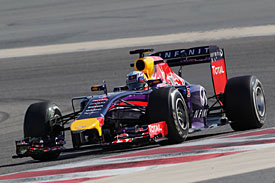 The team suffered problems with its RB10 throughout the test, limiting Daniel Ricciardo and world champion Sebastian Vettel to a combined total of 116 laps, with a best lap time of 1m39.837s set by Ricciardo on the final day.
By contrast, Rosberg's best lap time of the week was over 6.5 seconds faster, while Mercedes completed a grand total of 315 laps between its two drivers.
The other Renault-powered teams encountered plenty of difficulties too.
Lotus looked in deep trouble early on, and Romain Grosjean cut a dejected figure in the paddock during the first two days.But 59 laps for Pastor Maldonado on the final day (which still featured plenty of technical issues) gave the team cause for greater optimism.
"Major" technical problems for Toro Rosso, and Caterham only logging decent mileage by turning the engine down on days one and three, made for many a furrowed brow among the other teams using Renault propulsion.
Meanwhile, Ferrari completed a solid if unspectacular amount of running with Fernando Alonso and Kimi Raikkonen.The Scuderia amassed nearly 300 laps across four days, despite a telemetry issue restricting Raikkonen to just 44 laps on Friday before he crashed the car at the end of the final day.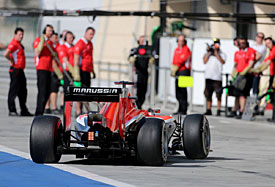 Apart from Esteban Gutierrez (who racked up 151 laps and set the eighth fastest time of the test), drivers in the Ferrari customer teams endured a difficult test.
The Mexican's team-mate Adrian Sutil clocked 82 laps on day one, but only seven on the final day, when the Swiss team discovered a chassis problem on the C33.
Marussia arguably endured the worst test of all the teams, completing less than 30 laps across four days, thanks to IT, engine and fuel system difficulties.
Combined times:

Pos Driver               Team                     Time       Gap
 1. Nico Rosberg         Mercedes                 1m33.283s
 2. Lewis Hamilton       Mercedes                 1m34.263s  +0.980s
 3. Kevin Magnussen      McLaren-Mercedes         1m34.910s  +1.627s
 4. Jenson Button        McLaren-Mercedes         1m34.957s  +1.674s
 5. Nico Hulkenberg      Force India-Mercedes     1m36.445s  +3.162s
 6. Fernando Alonso      Ferrari                  1m36.516s  +3.233s
 7. Kimi Raikkonen       Ferrari                  1m36.718s  +3.435s
 8. Felipe Massa         Williams-Mercedes        1m37.066s  +3.783s
 9. Esteban Gutierrez    Sauber-Ferrari           1m37.180s  +3.897s
10. Valtteri Bottas      Williams-Mercedes        1m37.328s  +4.045s
11. Sergio Perez         Force India-Mercedes     1m37.367s  +4.084s
12. Felipe Nasr          Williams-Mercedes        1m37.569s  +4.286s
13. Pastor Maldonado     Lotus-Renault            1m38.707s  +5.424s
14. Daniil Kvyat         Toro Rosso-Renault       1m38.974s  +5.691s
15. Daniel Ricciardo     Red Bull-Renault         1m39.837s  +6.554s
16. Kamui Kobayashi      Caterham-Renault         1m39.855s  +6.572s
17. Sebastian Vettel     Red Bull-Renault         1m40.224s  +6.941s
18. Adrian Sutil         Sauber-Ferrari           1m40.443s  +7.160s
19. Jean-Eric Vergne     Toro Rosso-Renault       1m40.472s  +7.189s
20. Romain Grosjean      Lotus-Renault            1m41.670s  +8.387s
21. Marcus Ericsson      Caterham-Renault         1m42.130s  +8.847s
22. Max Chilton          Marussia-Ferrari         1m42.511s  +9.228s
23. Robin Frijns         Caterham-Renault         1m42.534s  +9.251s
24. Jules Bianchi        Marussia-Ferrari         no time

Distance by driver

Pos Driver               Team                   Laps   Km                            
 1. Nico Rosberg         Mercedes               174    941
 2. Valtteri Bottas      Williams-Mercedes      171    925
 3. Jenson Button        McLaren-Mercedes       169    914
 4. Fernando Alonso      Ferrari                161    871
 5. Esteban Gutierrez    Sauber-Ferrari         151    817
 6. Lewis Hamilton       Mercedes               141    763
 7. Nico Hulkenberg      Force India-Mercedes   137    741
 8. Kevin Magnussen      McLaren-Mercedes       127    687
 9. Kimi Raikkonen       Ferrari                126    681
10. Marcus Ericsson      Caterham-Renault       102    552
11. Adrian Sutil         Sauber-Ferrari         89     481
12. Felipe Nasr          Williams-Mercedes      87     470
13. Pastor Maldonado     Lotus-Renault          85     460
14. Kamui Kobayashi      Caterham-Renault       83     449
15. Jean-Eric Vergne     Toro Rosso-Renault     77     416
16. Sergio Perez         Force India-Mercedes   76     411
17. Sebastian Vettel     Red Bull-Renault       73     395
18. Robin Frijns         Caterham-Renault       68     368
19. Felipe Massa         Williams-Mercedes      65     351
20. Daniil Kvyat         Toro Rosso-Renault     62     335
21. Daniel Ricciardo     Red Bull-Renault       43     232
22. Romain Grosjean      Lotus-Renault          26     140
23. Max Chilton          Marussia-Ferrari       21     113
24. Jules Bianchi        Marussia-Ferrari       8      43

Distance by team

Pos Team                 Laps     Km 
 1. Williams             323      1748
 2. Mercedes             315      1704
 3. McLaren              296      1601
 4. Ferrari              287      1553
 5. Caterham             253      1369
 6. Sauber               240      1298
 7. Force India          213      1152
 8. Toro Rosso           139      752
 9. Red Bull             116      627
10. Lotus                111      600
11. Marussia             29       156

Distance by engine manufacturer

                         Laps     Km 
 1. Mercedes             1147     6207
 2. Renault              619      3350
 3. Ferrari              556      3009