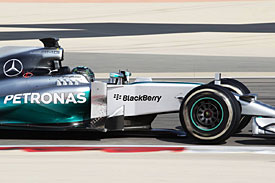 Nico Rosberg says he is happy with how his Mercedes feels in low-fuel trim after he set the fastest time of the week in the first Bahrain Formula 1 test.
The German was the only driver to lap under 1m34s over the four-day test, following some qualifying simulation runs on soft tires on Saturday morning ahead of a race run later in the day.
Speaking about how the car felt in qualifying specification, Rosberg told reporters in Bahrain: "I felt comfortable in the car, getting into the rhythm, finding a balance. That was working well.
"With low fuel I was able to push, so I was pretty pleased with that. The feeling is positive, it looks quite good even on pace but I'm not going to say more than that because I don't know yet."

Bahrain test day four report
Rosberg accepted that some of Mercedes' pace advantage was down to the fact that the team ran its car lighter on fuel than anyone else has so far in pre-season.
"It's too early to say exactly where we were because I'm sure the other guys didn't take out as much fuel as we did," he said. "So we have to be very careful.
"We were doing qualifying practice, which explains the gaps and it's impossible to know exactly what other people were doing."
Mercedes followed up those qualifying runs with a full race simulation, and Rosberg added that the team is aiming to be 100 percent reliable by the Australian Grand Prix.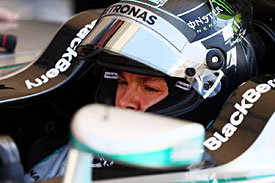 "The race sim was another big step for us, but the car broke afterwards, so there is still some way to go to sort out the reliability," he said. "The early races are going to be all about reliability, who can get to the end. We look among the best at the moment but we're still in a difficult position.
"We need to be 100 percent bulletproof by the time we get to Melbourne – that's what the focus needs to be on.
"We've discovered a lot of issues which you only learn if you push the car to the limit, so these were important discoveries to reduce the amount of issues to be able to finish in Australia."