Red Bull boss Christian Horner has predicted that Mercedes could win this weekend's season-opening Australian GP by two clear laps.
With the World Champions enduring a torrid winter after failing to extract either pace or reliability from the brittle RB10 and, in sharp contrast, the Mercedes W05 consistently impressing throughout pre-season testing, the Silver Arrows team have arrived in Melbourne as the clear favourites to prevail as the sport embarks on a slate-cleaning new era of turbo engines and ambitious energy recovery systems.
Horner's declaration midway through the first Bahrain test that Mercedes were favourites to prosper was dismissed by
Lewis Hamilton's as F1's version of mind games
, but Horner is adamant that the Brackley team could be driving in a different league to the rest of the field on race day this Sunday.
"You could see a higher level of domination than we had last year," he told The Daily Mail. "Looking at Mercedes' race simulation, it wouldn't be a surprise if they finished two laps ahead of everyone in Melbourne. They have a massive advantage. What we know about Lewis is that he is extremely talented and naturally fast. And he's in a good team, so he's probably got to be the favourite going into the season."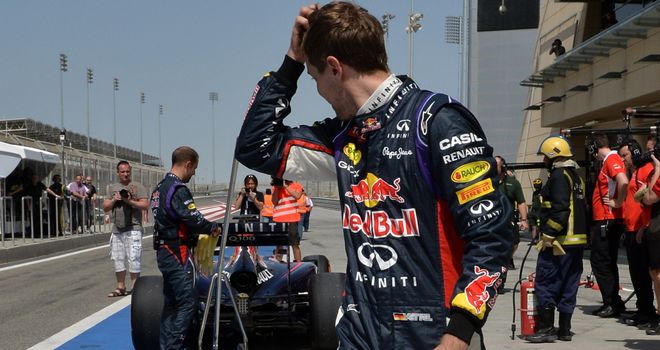 The RB10's winter woes provoked plenty of head scratching
Instead, the solitary racing certainty appears to be that, after four years of domination and nine successive victories at the end of 2013, Red Bull will start the new campaign cut far adrift of the frontrunners.
The RB10 was a frustrating and perplexing model of unreliability during winter testing and while the team have denied they intend to launch a b-spec car, Horner has acknowledged that it could be months before the car - described at its birth as "the most complicated car in the history of F1" by the Red Bull chief - challenges for victories.
"We believe it is inherently a good car," Horner said to
The Daily Telegraph
. "I have every confidence in the team. There's no panic. There are engineering solutions and there is no better set of engineers in the pit lane. By the time we get to the European races in May, we should be OK."
Until then, however, points - rather than podiums and victories - may be the extent of the team's ambitions with Horner adamant that engine suppliers Renault are chiefly responsible for the car's uncompetitive state.
"Adrian [Newey] and his technical have done an excellent job. We had some cooling issues early on, but we've worked hard to address those. The main bit we need to get on top of is with our engine partner," Horner maintained.
"They [Renault] will catch up, they quite simply have to. We would hope by the time we arrive back in Europe that we're seeing significant improvements."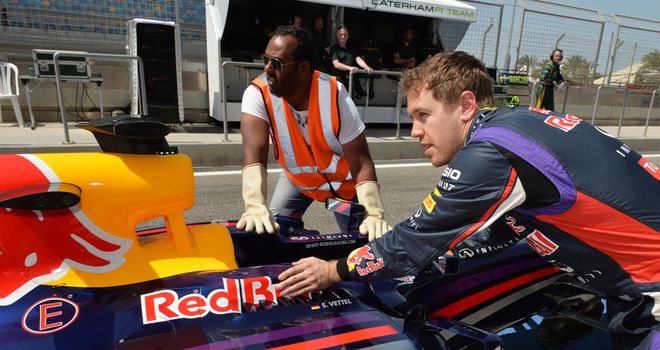 The iconic image of pre-season testing as Vettel pushes his broken-down car back into the Red Bull garage
Whether Sebastian Vettel's aspiration of a fifth successive title can survive a two-month barren spell at the start of 2014 remains to be seen, with the reigning World Champion bluntly admitting last week "we cannot do the times that the guys at the top of are doing but at the moment we have bigger problems to solve than just the pace."
After rounding off F1's era of V8 engines with a record-breaking run of nine consecutive victories, the likelihood is that Vettel will commence 2014 in the curious position of having little hope of winning on track but finally in a sufficiently lowly position to win over the critics who have refused to acknowledge his talent until he impresses in an uncompetitive car.
"Of course, this is an opportunity for him where he's going to be on the back foot in the first few races, but I'm sure he'll rise to that," mused Horner. "It's an opportunity."
That, though, is unlikely to be of consolation to Vettel if he finds himself being repeatedly lapped by the Mercedes cars on Sunday.