IndyCar has overhauled the qualifying procedure for the Indianapolis 500 in the hope of creating more fan appeal and increasing TV viewership.
Under the new format, qualifying will take place across three sessions over two days, culminating in a Fast Nine shootout for pole on Sunday, May 18.
Saturday will be used to determine the 33 cars that will compose the starting grid, although not the grid order itself.
All entries will be guaranteed at least one four-lap attempt to make the field, with the fastest nine entries advancing directly to the shootout.
For the remaining cars, Saturday's times are erased for the Sunday session, and each entry will make one four-lap run to determine the starting positions between grid spots 10 and 33.
The order for qualifying attempts will run from slowest to fastest from Saturday's times.
Entries that qualify for the shootout will also make a four-lap run, with the order again based on slowest to fastest from the previous day. The top nine grid positions will be determined by aggregate times over the four laps.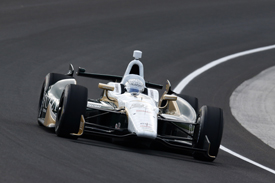 The timed sessions on both days will be preceded by a practice session.
"There is an enormous amount of talent in the field this year, which so far includes five former Indianapolis 500 champions," said IndyCar president of competition and operations Derrick Walker.
"The new format presents an additional challenge to drivers who have one chance to make the field on Saturday, and start over again on Sunday to determine their starting position."