Felipe Massa believes that Williams could be in the mix at the front in the season-opening Australian Grand Prix next weekend.
Williams had an outstanding pre-season testing programme, impressing both on single-lap and long-run pace.
While Massa stopped short of predicting victories and stressed the need for the team to keep its expectations in check, he did confirm that he does expect the team to have a "good start" to 2014."It was a great feeling from the car from the first time I drove at Jerez, and also how we improved the car until the last test in Bahrain," said Massa when asked by AUTOSPORT if fighting for the podium or even a win in Melbourne is possible.
"The way the team was working, how the car was reliable, everything was positive.
"Saying where we are is still a little bit difficult, it's always important to keep the feet on the ground and not think that we are more than where we are.
"Definitely, I'm very excited that things can go well for us, that we can have a good start.
"We know that one of the most important things for the first race is definitely to be competitive, but also to be reliable."
The Brazilian still suspects that Mercedes will be the team to beat in Australia next weekend.
While Massa set the fastest overall time of the final pre-season test in Bahrain last week, Mercedes drivers Lewis Hamilton and Nico Rosberg remain overall favourites."Honestly, if you asked me which team is in the front, I think it is Mercedes," said Massa.
"We will see. Now is the time to understand who is really at the front when everybody is on the same fuel and the new tyres in qualifying.
"Then, you will understand where you are compared to the others. But it's not just the performance, it's also the reliability that will be part of the game.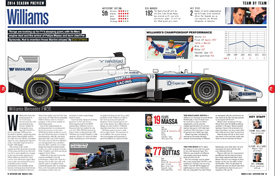 "And you have so many other teams that will be there fighting. Maybe McLaren will be there, maybe Ferrari will be there.
"We don't know where Red Bull is because they did not run and they were always in the garage, so you cannot forget them.
"They know how to do a good car and how to be competitive and when they fix the problems they have they are going to be there.
"Maybe tomorrow Red Bull or Lotus is in the front like nobody expected."