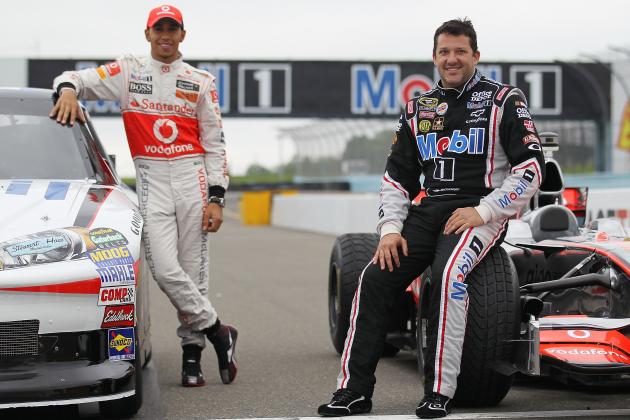 The 2014 Formula One U.S. Grand Prix is scheduled for November 2, 2014 in Austin, Texas. Some 350 kilometres to the north, in Fort Worth, the Texas 500 NASCAR race will take place on the same day.
Despite the apparent shock and indignation of Texas Motor Speedway president Eddie Gossage, this conflict is not the first time two large sporting events have taken place on the same day, even—GASP—in the same state.
Last Tuesday at a fan meet-and-greet with NASCAR star Dale Earnhardt Jr., Gossage said, per the Associated Press:
I absolutely think it's foolish. It's a shot fired by Formula One at NASCAR. ... It's just not smart. There's 52 weeks in the year. But that was the only weekend that Formula One could make it work in Austin, Texas. Give me a break.
Gossage, however, is creating a problem out of nothing. Or maybe he just subscribes to the "no publicity is bad publicity" school of public relations as he tries to rejuvenate NASCAR's sagging attendance figures.
According to USA Today
, NASCAR stopped publishing race attendance figures for the 2013 season after 2012 saw the lowest average attendance in at least 10 years.
Rick Kern/Getty Images
Surely, though, in a state with over 26 million people—larger than Australia's population—two sporting events which may draw 300,000 fans between them can coexist.
Bobby Epstein, chairman of the Circuit of the Americas (COTA) which hosts the F1 race, certainly thinks so.
When I asked for a comment on Gossage's remarks, COTA replied with an emailed statement from Epstein, saying, "I'm not sure why Eddie is so upset. He is in a huge metropolitan area, has a fine product, and our events are incredibly different. Although there is very, very little overlap, I do feel for the fans who have to make a choice. The reality is there are more than 30 NASCAR races in the US and only one Formula One race. It's impossible not to bump into them."
As Epstein points out, F1 and NASCAR are very different sports with very different fan bases. Although there may not be an official survey, we should be safe to assume that there are more NASCAR fans in Texas and surrounding states than there are F1 fans—probably by an order of magnitude.
For example, when the 2012 U.S. Grand Prix was held on the same day as NASCAR's season-ending race in Florida, the F1 race drew a national TV rating of 0.42, while NASCAR's was 2.7,
according to Motor Sport Magazine
.
David J. Phillip/Associated Press
Aside from its niche market in the U.S., the Grand Prix benefits from interest south of the border. With two Mexican drivers currently racing in F1, plans are afoot to revive the Mexican Grand Prix. In the meantime, Austin's relative proximity makes it an easy weekend trip for Mexican race fans.
If anyone is hurt by the conflict between the two races, it is probably F1. Continuing with the assumption that there are far more NASCAR fans in Texas, each of the dedicated fan bases will still be able to attend their preferred race.
However, all those extra NASCAR fans who might have been tempted to check out the Grand Prix if they had a free weekend will be in Fort Worth rather than Austin.
Epstein's statement continued, saying that F1 CEO Bernie Ecclestone "worked hard to try to accommodate a date change, but the complexity and costs of moving between countries, combined with local logistics and conflicts made it an impossible task. This date was definitely not intended to go up against a race in Dallas-Fort Worth."
Although the Texas 500 has been run on the same weekend since 2005, as Epstein said, F1 must consider a number of other factors when scheduling its races.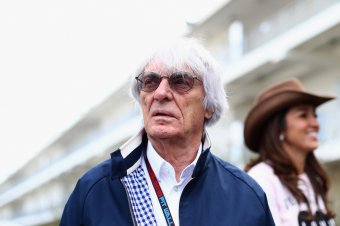 Paul Gilham/Getty Images
In 2013 the U.S. Grand Prix shared a weekend with a University of Texas football game. Both events attracted large crowds, but the situation was not ideal. This year, the race before Austin takes place in Sochi, Russia, so the teams need time to move all their equipment and personnel halfway around the world.
Other F1 circuits must also be accommodated as they try to fit their grands prix into the local calendar. One race cannot simply be pushed forward or backward by a week without creating a domino effect on the entire schedule.